Wednesday, March 5, 2008 at 5:46AM
Mrs. G.
This dishy bride is Jess of See Hear Speak No Evil. Isn't she lovely? Jess asks:
Mrs. G,
As you know, I'm getting married in less than two weeks. Id really like to know the three most important things that have kept your marriage strong.

Love,
Jess
Mrs. G. has been thinking about this question all week. She is reluctant to give anyone marital advice, because it is a serious subject and she has not one whit of professional training other than reading a Dr. Phil book years ago relationships are a tricky business. She and Mr. G. have been married for eighteen years, but, Jess, all Mrs. G. can say with any certainty is: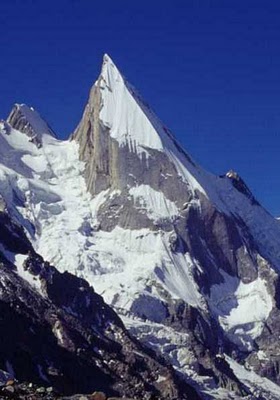 Peaks...
and Valleys. Peaks and valleys. Some deeper and higher than others. Some fixed by a king sized bag of peanut M&M's. Some not.
With this in mind, here are a few of Mrs. G's March 5th, 2008, tips for Keeping a Marriage Strong. She specifies the exact date because, and this is the tricky part Mrs. G. alluded to earlier, answers change depending on the day, month or year.
In an attempt to be unbiased and even-handed, Mrs. G. asked Mr. G. what he thought were the three most important things in keeping a marriage strong .
Mrs. G: What do think are the three most important things in keeping a marriage strong?
Mr G: What kind of question is that?
Mrs. G: I'm just curious. What do you think?
Mr. G: Love, trust and friendship.
Mrs. G: And?
Mr G: What do you mean?
Mrs. G: What do you mean what do I mean? Can you dig a little deeper and give me some specifics? That's what I mean
Mr. G: I'm not sure I know what you mean. That's my answer. It's simple. Can I stop talking now?
This conversation speaks to Mrs. G. Marriage Rule #1: Don't always look for deeper meaning. It is entirely possible that you will never find it. Sometimes a wet towel left on the bedroom floor is just a wet towel left on the bedroom floor. It doesn't symbolize oppression or disrespect or pent up rage or unfulfilled dreams. Most often, it symbolizes a wet towel left on the bedroom floor. If you can't accept this simple truth and you must explore the wet towel left on the bedroom floor and, say, its role in empowering the patriarchy, Mrs. G. suggests you buy a journal and, for the health of your relationship, work it out on paper. Silently. Sometimes it is what it is. In this case, a wet towel left on the bedroom floor. So, Jess, if it's not a bona-fide big-ass deal...
let it slide. And then let it slide some more.
Mrs. G's Marriage Rule #2 is the classic but still relevant:
The Only Person You Can Change Is Yourself
. Mrs. G. truly believes that the most positive ingredient in her marriage is her and Mr. G's ability to live and let live. She accepts that he will never be able to locate baking powder at the grocery store without a map, and he deals with her inability to cope with the strangulating nature of a top sheet. She knows that if she asks him a question regarding
any
subject and he doesn't know the answer, he will make it up. Without pausing or batting an eye. He accepts that she can't handle raw chicken and has an unexplainable need to buy at least seven new calendars a year. He snores. She smacks her gum.
Jess, if you find yourself in a position where you are sure that your new husband is, perhaps, the least attractive and most unpleasant person you have ever agreed to spend the rest of your life with and that you would like to stab him with a pencil, put the pencil down, lock yourself in the bathroom and take your own inventory. Mrs. G. often approaches her relationship mathematically, like in the following equation:
his ego
+
my moodiness
+
his refusal to clean the shower
+
my lack of organization skills
+
his idiot friend
+
my idiot friend
+

his inability to wrap up cheese properly so that it doesn't get those repulsive hard and discolored edges

+

my obsession with hair and Secret Boyfriends

-

everyday bullshit and a long day's work

=just fine

x

i love you
And, finally, Jess, Mrs. G's Marriage Rule #3:
Above all else, be nice
. Hug and kiss each other, rub each other's feet, and work really hard not to bring up, on a fairly regular basis, the time that he didn't empty the dishwasher on your birthday
nine years ago.
Even if it was right after he forgot to notice your new haircut and fix the cord on the
freakin
' vacuum cleaner for the 27
th
day in a row despite the fact that it was
his
mother coming over that night to eat the dinner
you
cooked on
your
birthday.
It was nine years ago
. Peaks and valleys, Jess, let it slide. Just walk right over that wet towel on the bedroom floor and let it slide.
May your lives be filled with peace, love, health and happiness. Congratulations!
OK,
Derfwads
, now it's your turn. Help a new bride out. Remember when you and yours were just starting out? Can you offer Jess any thoughts on how to keep a marriage strong? What has worked for you? And, equally important, what hasn't worked for you?
Book winners announced this afternoon!
tagged
Relationships