Sunday, October 14, 2007 at 12:06AM
Mrs. G.
Disclaimer: Mrs. G. has been married for almost eighteen years to the same man, Mr G. He is handsome, kind, loyal, and doesn't do household chores of any kind is a wonderful father. Many, many people (some of whom do not reside at Derfwad Manor) believe he makes the best pasta sauce in the world. Period. He uses a secret ingredient, and he will not share it with anyone, because Mr. G. is Sicilian and that's just the way they are.
Mrs. G's hearts a poundin' as she introduces George Timothy Clooney as her Secret Boyfriend #9. She says secret boyfriend because while her love and esteem for George is as dramatic and exciting as a trip to the ER, he has no idea that Mrs. G. exists. Ahh...Mrs. G. thinks unrequited love is healthy in a long term marriage she wants to last.
It all began in 1979 when Mrs. G. loved watching a
TV
show called
The Facts of Life
. The show was set in a dormitory of an all-girls school,
Eastland
Academy. Mrs. G. was fond of all the girls on the show, but she
really
liked Jo the best. Jo was a tomboy and she didn't take any crap and she had beautiful eyes. Mrs. G. liked Jo so much that she put a poster of her up on her wall, causing her mother
to light candles and pray the rosary
grave concern. Six seasons later, a handy man named George Burnett showed up (see above) at
Eastland
Academy
. Mrs. G. forgot all about Jo and turned all her affection toward George. Mrs. G's mother breathed a sigh of relief and resumed her dream of future grandchildren. When reminiscing about his
Facts of Life
days, George said, "If I surved a mullet, I can survive anything."
He survived all right. Mrs. G. went on to college while George wrapped things up with the
Eastland
Girls. They reconnected when George played the cocky boss Booker Brooks on the
Roseanne
show. Booker had a little something something going on with Roseanne's sister, Jackie. Mrs. G. wanted to run her fingers through Booker's floppy hair. Above, George is standing next to Max, his beloved pot bellied pig who unfortunately died in 2006.
Things really started heating up in 1994, when George starred in a little show called
ER
. He played Dr. Doug Ross and he was the
original
Mcdreamy
, he laid the foundation for all future and less worthy, M
cdreamies
.
ER
was hugely popular, and it was at this point that Mrs. G. had to start fighting other women off, mainly a
slut
nurse named Carol Hathaway who went on to molest Dr. Doug Ross for six seasons until she trapped him by getting pregnant with twins. They both left the show after season six to move to Seattle and raise their twin daughters. Not many people know this, but Doug and Carol divorced bitterly in 2000, the year Mrs. G. and her family moved back to Washington.
Hmmmm
....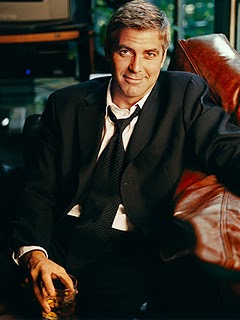 OK, Reader, just look at this handsome bastard. Doesn't he scream old school like Cary Grant? Suave
and
debonair
, George can work a tuxedo like
nobody's
business. Look at those come hither eyes and that naughty smile. When nobody is watching, just lean over and kiss the screen. Mrs. G. won't tell.
Could George's Danny Ocean and his modern day Rat Pack have been any cooler than in this movie? George is one of only two men to be featured on the cover of
Vogue
and
People
magazine voted him Sexiest Man Alive in 1997 and 2006. Women want him and men want to be him. Mrs. G. just wants to hug him. A lot.
Lest, Reader, you think George is just all about handsome, he donated
one million dollars
to the Hurricane Relief Fund for victims of Katrina. In April of 2006, he spent 10 days in Chad and Sudan with his father to make a film about
Darfur's
refugees. This year, he founded
Not on our Watch
, along with his fellow Ocean's Eleven actors Brad Pitt, Matt Damon, Don
Cheadle
and Jerry
Weintraub
, to provide humanitarian relief to the people of
Dafur
.
George says he will never marry and spends much of his time at his home in the Italian village of
Laglio
. He recently told an
interveiwer, "
I bought a piano once because I had the dream of playing
As Time Goes By
as some girl's leaning on it drinking a martini. Great image. But none of it worked out. I can't even play
Chopsticks
." Mrs. G. loves martinis
and
Chopstix
. Is it any wonder George
Clooney
is her Secret Boyfriend #9?
25 Comments
| |
Tweet
Email Article
|
tagged
Mancake